Thriving Tech Entrepreneurship Landscape in India
India has emerged as one of the top destinations for starting a technology business, thanks to numerous favourable conditions in its startup ecosystem. Some key factors contributing to the rise of tech startups in India include:
Growing domestic demand – With a population of over 1.3 billion people and rising internet penetration, India presents a huge potential market for digital solutions across sectors.
Supportive government initiatives – Programs like Startup India are focused on transforming the country into a global startup hub. They provide funding, mentoring networks, tax incentives and other resources to help innovators.
Investments from VCs and incubators – Both local and foreign venture capital firms are actively investing in promising Indian startups. For example, in 2021, Indian startups raised $42 billion in funding, higher than ever before.
Talent availability – India is known for its skilled engineering talent that can be hired at relatively lower costs compared to other countries. Cities like Bengaluru, Delhi, Mumbai have large pools of trained professionals.
Stable infrastructure – India has well-established technology centers and special economic zones that provide reliable infrastructure for running a business smoothly, from seamless internet to office facilities.
With over 50,000 startups, India has joined the big league of startup nations. The combination of a huge addressable market, policy support and availability of risk capital makes it a very attractive destination for entrepreneurs to launch innovative, high-potential tech ventures.
Best Tech Startup Ideas with High Success Rates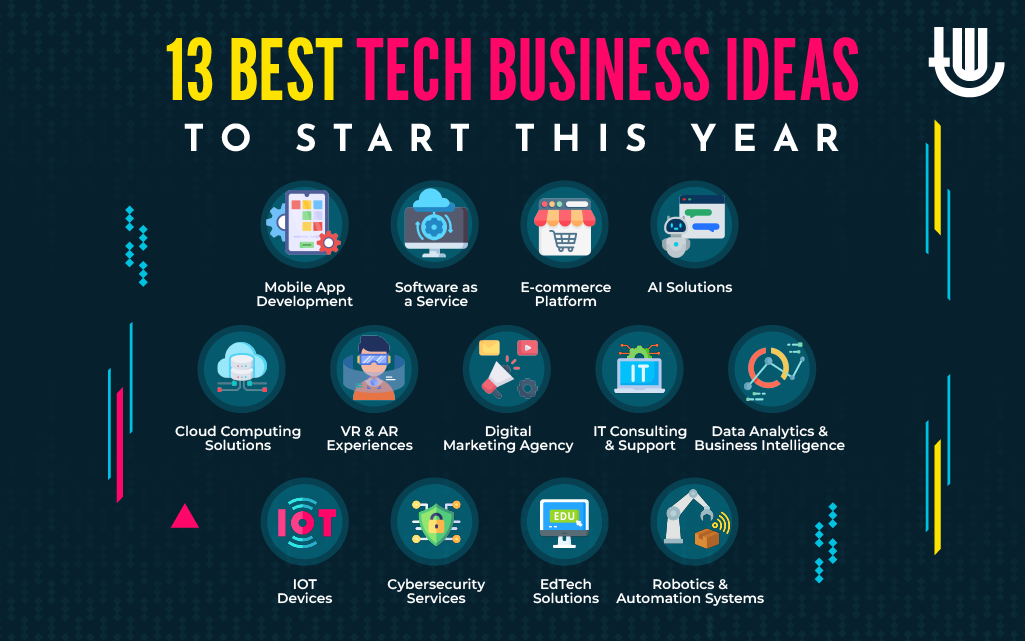 In this blog, we will look at some popular tech startup ideas in India as well as discuss existing tech startups so that you can have several unique ideas to emulate for your tech startup in India.
Software Product Company Ideas
In India, software products are an attractive avenue for tech startups due to the low barrier to entry and global reach on the internet. Some niche sectors with opportunity include:
Enterprise Software
SaaS tools for HRTech, FinanceTech and Operations are in demand as Indian businesses increasingly move to  digitaliztion. Examples include HRMS platforms like Sapling and accounting software like Zoho Books.
Agritech Solutions
India has a large agrarian population that can benefit from products bringing market access, insurance, advisory. Appslike Ninjacart connect farmers to buyers.
Edtech
Online learning startups like Byju's and Unacademy are proving the feasibility of edtech products addressing school/exam prep needs.Space exists for tailored vocational, language-learning tools.
Fintech
Payment solutions, investment/lending platforms experience growth as India's digital payments boom. Players like CRED,Khatabook are examples of successful Indian product startups.
The above sectors present opportunities for Indian entrepreneurs to develop software products that solve pressing local challenges at low budgets.
Mobile and Web Application Development Ideas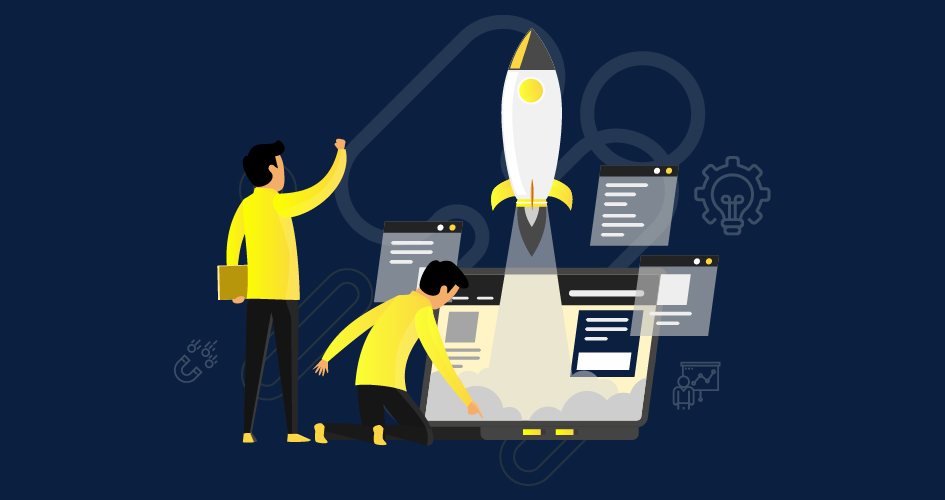 India is a burgeoning market for apps and has produced success stories like Paytm. Here are some ideas for Indian mobile/web design startups:
Driver aggregator platforms:  Train/ auto alternatives like UBER/OLA but in smaller cities
Ecommerce Enablement Tools: Payment or logistics APIs for Indian merchants to sell online
Recruitment Apps: A recruitment startup tailored to new India's job market like specialized for freelancers/startups
Entertainment Apps: Ticketing or Maps App dedicated to India's tourism
Hyperlocal Delivery Apps: Food or medicine delivery tailored to India's towns
Combined with India's engineering talent, such focused applications catering to the country's unique requirements show potential. Frameworks like React Native and Flutter also help startups build for Indian and global audiences simultaneously.
Digital Marketing Agencies
With increasing internet and smartphone usage in India, the demand for digital marketing is rising rapidly. Here are some startup opportunities in this space:
Localized Content/SaaS Platforms
Create specialized tools for social media management, SEO, and vernacular content creation tailored to the needs of Indian SMBs.
Develop SaaS solutions that simplify content creation and distribution in regional languages, catering to the diverse Indian market.
Influencer Marketing Automation
Building platforms that help businesses identify relevant local influencers using metrics like geo-targeting and automate outreach for influencer marketing campaigns have high reach.
ROI-Focused Tools –
Develop innovative techniques, such as computer vision for footfall counting or apps for tracking promotion codes, to streamline attribution and link online marketing efforts to offline sales.
AdTech/CTV startups
Explore new ad formats for connected TVs and streaming devices, including shoppable ads and interactive native content.
Create technology solutions that help businesses make the most of the growing digital advertising opportunities in the television and streaming space.
Online Tutoring Platforms
Address the shortage of high-quality teachers, especially in non-metro areas, by offering virtual tutoring platforms.
Incorporate advanced pedagogies like flipped classrooms, chatbot assistants, online assessments, and personalized learning pathways to enhance learning outcomes.
IT Consulting Firms
Indian IT consulting startups help global clients with outsourced projects and services. Some new models include:
Specialize in emerging technologies like AI, blockchain, and AR, leveraging India's engineering talent to build customized solutions for global clients.
Provide software testing and QA services, tapping into India's cost advantage and large testing talent pool for on-demand testing teams.
Facilitate the expansion of global software products into emerging markets by leveraging local expertise and partnerships.
As-a-Service Startups
Offer cloud solutions in areas like infrastructure monitoring, security, and application modernization to reduce consulting costs for businesses.
Assist non-tech companies in adopting technologies like blockchain, IoT, and automation by providing customised roadmaps and pilot projects.
Online Payment Solutions
Focus on B2B payments by providing integrated payables/receivables management solutions, simplifying invoicing and reconciliation.
Offer low-cost international money transfer services between India and key markets like the Middle East and Southeast Asia for remittances.
Develop solutions for automated bill and tax payment collection, directly integrated with utility and government systems.
Embed financing solutions within e-commerce checkouts and peer-to-peer platforms to facilitate digital lending.
These startup opportunities align with India's growing digital landscape and offer innovative solutions to cater to the diverse needs of businesses and consumers in the country. The potential for success in these sectors is substantial due to the ongoing digital transformation in India.
Tech Business Ideas Capitalizing on New Trends
Aside from traditional tech models, a few new-age business startups are demonstrating high-growth potential by leveraging emerging technologies and evolving customer behaviors:
Let us look at some real-time tech startups in India and emulate the same for our tech startup.
Influencer Marketing SaaS –
With the rise of digital content creators, Influencer Marketing has become a crucial channel. Indian startups are shaping this evolving space:
InfluencerBox/Kolsquare enables real-time campaign management, ROI analysis across YouTube, Instagram, Snapchat and TikTok.
TribeImpact automates micro-influencer discovery and outreach at scale based on hyperlocal target demographics and interests to boost engagement.
Buzzoka aggregates social media analytics and NLP tools to evaluate influencer fitment for trends, validate brand suitability for campaigns.
IZEA helps enterprises build sustainable long-term influencer networks and benchmark effectiveness of one-off promotions vs ongoing sponsorships.These platforms bring much-needed organisation, tools and transparency to influencer marketing helping businesses maximise ROI amid the clutter.
Live Streaming Platforms
Live video is an engaging format seeing rising adoption. Startups are capitalising on this:
Glacier aims to be India's TikTok by enabling users to stream, interact including games and rewards during live sessions.
KoiStar allows celebrities, comedians to host and earn from live paid shows attended by their virtual audiences.
Josh focuses on live tutoring, coaching, question-answer sessions where students can clear doubts in real-time.
PopXO builds AR/VR enabled interactive live event experiences for virtual concerts, product launches and team celebrations. They provide innovative live social experiences fulfilling India's entertainment and knowledge sharing needs.
EdTech Startups in India
India has a huge population of learners from K-12 to working professionals. EdTech startups are transforming the landscape:
BYJU'S personalized learning apps have made education accessible through adaptive JEE/NEET prep modules.
Vedantu and even Unacademy introduce virtual classrooms for Live doubt-clearing besides recorded video lessons.
Simplilearn, upGrad offer comprehensive online courses, full degree programs for career advancement and reskilling through top foreign universities.
WhiteHat Jr teaches coding to kids using its innovative ThinkerPad.Leveraging India's digitalization, these innovative startups deliver high-quality affordable education at scale.
Property Tech Startups in India
India's massive real estate sector sees burgeoning PropTech startups streamlining operations:
NoBroker facilitates hassle-free home renting/buying through tenant verification, online agreements on their platform eliminating broker fees.
Housing.com provides all services from listings to virtual tours to home loans to make the search and purchase process smoother.
Anthropic's AI tools enable automated extraction of property details from images for quick data entry benefiting developers.
Square Yards leverages their strong network of brokers to provide end-to-end services from home search to sale closing including financing.These startups bring much-needed transparency, efficiency and convenience through technology.
VR/AR Application Development Ideas
Indian entrepreneurs are building innovative VR/AR solutions:
Teki builds immersive edtech and video streaming apps across entertainment, skills, languages and remote help through its full-stack VR platform.
Vao things creates AR interfaces for industries allowing visualization of designs, projecting plans and assisting workflows through spatial computing.
Anthropic develops photorealistic AR try-on for cosmetics and apparel brands empowering virtual trial experience and consumer engagement.
Pathkind produces spatially aware VR experiences and games for therapy, cultural heritage through its cross-platform development tools.
VR/AR presents immense potential in India across sectors. Local hardware innovation coupled with such applications will make immersive media more accessible.
Strategies to Drive Growth and Scaling in Technology Startup
To succeed with any tech venture, founders must implement the right strategies from the early stages:
Conduct thorough market research and identify existing problems to solve
Build a minimum viable product (MVP) that demonstrates core value quickly
Leverage social media, SEO and content marketing to attract first customers
Continuously optimize UX based on user feedback and iterate new features
Partner with influencers, domain experts, industry veterans for credibility
Apply for government startup programs and accelerator schemes
Raise seed funding from angel investors or venture capitalists
Hire a strong technical team and expand operations steadily
Consider international markets from the start via remote working model
Regularly analyze metrics to improve ROI and monetization strategies
Thriving Sectors for Tech Startups in India
The following industries are ripe for disruption through innovative digital solutions:
E-Commerce and D2C Brands
India's e-commerce demand is estimated to touch $120 billion by 2025 fueled by growing internet access. Startups can offer online marketplaces, D2C brands, social selling tools, hyperlocal delivery etc. Examples include Meesho, MamaEarth, Porter.
Fintech and Digital Banking
With over 500 million internet users and surge in UPI payments, fintech is booming. Possibilities include neobanks, digital lending, insurtech, peer-to-peer networks, blockchain applications etc. Examples include Niyo, MoneyTap, BharatPe.
Healthtech and Biotech
Telehealth/telemedicine startups as well as those focusing on research/diagnostics, healthcare IT, medical equipment, drugs/vaccines, health insurtech are rising. Examples include Practo, MFine, Niramai.
EduTech and Online Learning
Due to pandemic, e-learning experienced huge growth. Opportunities lie in online tutoring platforms, skill-based courses, AI classroom tools, virtual labs and more. Examples include Upgrad, Vedantu, WhiteHat Jr.
Gaming and Interactive Media
Areas like AR/VR gaming, esports, digital content creation using blockchain etc. present scope. Companies like Nazara Games, Games24x7, Loco are leading players.
Logistics Technology
Automating cargo/fleet management, last-mile delivery, hyperlocal logistics networks can disrupt this sector. Startups like Rivigo, Shadowfax, Delhivery are modernizing supply chains.
These sectors have massive addressable markets experiencing digital shifts. Innovative solutions leveraging emerging technologies have high success potential in India.
Successful Tech Startups Emulating in India
Many promising Indian startups have gained prominence globally through innovative solutions and strategic scaling. Here are a few examples:
BYJU'S – The World's Most Valuable EdTech startup
Founded in 2011, BYJU'S has become India's largest edtech company valued at $22 billion by providing personalized learning apps and programs.
Freshworks – Making Customer Engagement Smarter
Starting as a lightweight IT helpdesk solution, Freshworks has now expanded into a full-suite CRM offering used by over 50,000 companies worldwide.
Oyo Rooms – Transforming Travel & Hospitality
Oyo disrupted the budget hotel market with its online listings, standardization and business tools for hotel owners, revolutionizing the hospitality sector.
Paytm – Pioneering Digital Payments
Paytm was a pioneering Indian company in the fintech revolution. It offers a superapp for banking, shopping, entertainment and digital services across India.
PolicyBazaar – Powering Insurance Commerce
Founded in 2008, PolicyBazaar aggregates insurance products from all major providers, enabling users to compare and buy online conveniently.
Quess Corp -Creating an On-Demand Workforce
Quess offers outsourced staffing solutions including recruitment, payroll, training to corporates and startups via its mobile-enabled platform.
Udaan – Democratizing B2B eCommerce
Udaan propelled small businesses onto online wholesale platforms, empowering kiranas to source products directly from manufacturers at lower prices through its app.
These successful startups validate the opportunities India offers through innovative business propositions leveraging emerging technologies. With continued access to risk capital and policy reforms, the country is destined for greater tech entrepreneurial feats globally.
More Examples of  Tech Startup Ideas in India
Aside from overarching industries, focused tech startups can also tap into high-potential growth areas:
IoT Startups in India
The Internet of Things has immense potential in India. Startups are leveraging IoT technologies across sectors:
Smart Cities – Bangalore-based Anthropic focuses on urban infrastructure like transportation, utilities using connected sensors.
Agriculture – Firm24x7 provides IoT-based monitoring of soil conditions, greenhouse environmental controls to boost yields.
Fleet Management – LogiNext utilizes IoT for tracking fleet fuel usage, vehicle maintenance needs. This optimizes transportation logistics.
Industrial IoT – Splunk invests in AI-powered IoT devices to predict equipment failures for clients across industries like manufacturing, resources.
Smart Homes – Players like EcoEnergy lever IoT for energy management, surveillance and integration into home automation systems.
Promising IoT startups will transform how infrastructure, resources and productivity using connected devices personalized to India's needs.
Cloud Infrastructure
Cloud computing has enabled scale and flexibility for Indian startups. Homegrown cloud specialists are emerging:
Hyperlocal Clouds – Pi Datacenters offers on-premise hyperconverged HCI and bare-metal servers for regulatory needs of sectors like finance, healthcare.
Disaster Recovery – Flocked focuses on backup, DRaaS and managed services tailored for SMBs with limited IT teams and budgets.
End-to-end Clouds – CloudKnox provides identity and access security solutions for enterprises adopting multi-cloud environments.
Edge Clouds – Titanpad builds hardware and software for edge colocation and services. This enables low-latency applications.
Cloud Marketplaces– For startups, influencers and enterprises, Platforms like Cloud Brook Pro enable one-stop procurement and management of cloud resources.
Indian cloud startups catering to unique compliance, cost and technical requirements show how cloud can be leveraged optimally in diverse
Blockchain Applications
Blockchain is revolutionizing industries in India. Here are some of the tech startup ideas in India for this sector.
Healthcare – MediLedger uses blockchain for secure lifelong personal health records,consent management and clinical trial data.
Finance – ConfirmTK makes cross-border payment settlements faster and more efficient between banks through its blockchain network.
Agriculture – Projects like Arya use blockchain to enable farmers' access to credit while ensuring fair commodity pricing and supply chain transparency.
Voting – Polypix builds secure mobile voting systems leveraging blockchain to authenticate voters and count ballots auditably.
Identity – Kachchhapure is a multifaceted decentralized identification network for services access, credential verification and regulated self-sovereign data management.
With supportive policies, India's blockchain startups will help transform governance and trust in vital sectors through distributed ledger technologies.
Electric Vehicles and Mobility
India is pushing for wider EV adoption through fiscal incentives. This has spurred innovative startups:
Charging Infrastructure – Companies like Electreeka install solar micro-grids with chargers nationwide. EveyTrans develops smar charging machines compatible with all EVs.
Electric Fleets – BluSmart provides electric cabs in Delhi reducing pollution and fuel costs. Zypp electric delivers packages cargo through its electric bikes and vehicles.
Electric Buses/Trucks – Startups like GoZero Mobility and EVage manufacture electricCVs for shared mass mobility and goods transport meeting Indian duties.
Battery Technology – Turtle Mobility develops advanced lithium batteries while Anthropic focuses on AI-enabled battery management extending EV range.
Used EV Marketplaces – Droom, Cars24 list used electric two and four wheelers enabling more affordable adoption.
With proactive targets, India's growing EV market will spur disruptions across autos, energy, manufacturing led by innovators localizing the future of mobility.
Drones and Robotics
Indian entrepreneurs are building solutions integrating robotics and drones:
Agricultural drones – Skylark and CropIn provide precision crop monitoring and analytics using drones for maximizing yields.
Delivery drones – SmartFaces delivers medicines autonomously in remote areas while TechEagle provides an entire Drone-as-a-Service platform for industrial inspections.
Collaborative robots – Addverb develops modular automated assembly lines using AI enabled cobots for manufacturing.
Service robots – GreyOrange builds AI-driven automated fulfilment systems to help ecommerce warehouses streamline operations.
Assistive robots – Invento helps the elderly and differently-abled through humanoid robots that provide companionship and assistance via sensors.
India's strengths in engineering coupled with domestic demands will accelerate the rise of robotics and drone-based startups revolutionizing various sectors.
Cybersecurity
As India rapidly digitalizes, cyberthreats grow in sophistication. Startups are enhancing security:
IoT Security – Saathi focuses on protecting hospitals' medical equipment and IoT devices via continuous monitoring and patching.
Cloud Security – AttackIQ develops ethical hacking platforms that help enterprises test and strengthen security of cloud infrastructure and SaaS applications.
Network Security – Cyble protects organizations and individuals from phishing attacks, data breaches and botnets through its AI-based threat intelligence platform.
Data Security – InstaSafe secures users' digital identities, financial transactions and privacy through multi-factor authentication and encryption solutions.
Supply Chain Security – Sequretek enables companies to monitor vulnerabilities across software development and ensure no malware is introduced into products during distribution.
With high-profile cyberattacks rising, these startups developing innovative, proactive security solutions tailored for India's landscape are poised for success.
Renewable Energy
Indian entrepreneurs are enabling the energy transition through novel tech startup ideas in India
Solar Home Systems – Simpa Networks and Yuktix Distributed Energy provide pay-as-you-go financing for rural households to access affordable solar power.
Green Hydrogen – H2Bay generates hydrogen through electrolysis powered by renewable energy for use as carbon-neutral fuel in transport and industry.
Renewable Portfolios – CleanMax partners with corporates and communities to set up customized renewable energy procurement packages including solar, wind farms and Green Certificates.
Electric Charging – ChargeZone Bays installs EV chargers along highways and commercial spaces to grow nationwide charging infrastructure availability.
Microgrids – Oorjan Cleantech builds decentralized microgrids and energy management systems including storage to provide uninterrupted power to off-grid communities.
With the boost from international climate action goals, such startups will drive India's sustainable development through innovative renewable models.
Closing Thoughts
To conclude, the burgeoning Indian startup ecosystem presents immense potential for innovative technology entrepreneurship. Some closing advice for founders includes:
Thoroughly evaluate different business models across thriving sectors to identify the right problem-solution fit.
Stay abreast of emerging technologies through conferences, events and continuous learning to build futuristic solutions.
Leverage democratic policy support systems like accelerators, angel networks, tech parks to validate ideas and access early capital.
Adopt efficient remote and hybrid working models to attract top tech talent nationally as well as globally.
Continuously analyze market size and demand shifts through tools like surveys, interviews and analytics to prioritize product development areas.
Partner with industry veterans, influencers and key stakeholders as advisors/investors for domain expertise and credibility boost.
Consider international expansion strategically through local teams or alliances to tap global markets and scale multi-fold.
Position the company as an employer of choice through career growth plans, ESOPs, insurance to retain top talent for long term success.
With promising startup opportunities, supportive resources and continued innovation, Indian founders have immense potential to build globally competitive technology ventures over the coming decades. The future of technology entrepreneurship in India looks highly promising and fulfilling.
Devgadhvi's Business Coaching Program: Profitable Tech Startup Ideas in India to Consider in 2023